Pet Boarding vs Pet Sitter
Pet Boarding vs Pet Sitter – As a pet parent, you know how difficult it can be to find a reliable pet sitter while you are away on vacation. Ideally, you want someone who can give your precious pooch or kitty as much care and attention as you do.
At Big Times Kennel, we understand your concern and that is why we can offer you the perfect solution!
While boarding with us, our overnight guests will enjoy his or her own safe space which is cleaned throughout the day, sanitized daily, and covered by a medical-grade air purification system.
Although a pet sitter has good intentions in caring for your pet, they only have a limited amount of time available. Our dedicated staff of pet lovers will devote as much time, care, and attention as needed to Fido or Fluffy to assure their well-being throughout their stay.
The canine crew has a routine as follows:
7:30 am – Let out
8:00 am – Breakfast
11:00 am – Treats
4:00 pm – Dinner
6:00 pm – Treats and tucked in
Self-replenishing water supply
Secure double-fenced access to the outdoors 11 hours/day rain or shine
Fresh kitty litter boxes which are changed daily
Endless supply of cat food and treats
Fresh water supply
Expandable kitty condos for climbing and stretching
Also, if your pet requires medication (other than shots), you can be sure that the correct dosage will be given at the designated time as per your instructions.
We will monitor your pet's activity, behavior, health, and safety. Should your beloved pet at first experience some anxiety, not eat, or develop diarrhea, we know how to handle these issues quickly and professionally. Plus, we have an excellent rapport with vet offices in the area should an emergency arise.
Pet Boarding vs Pet Sitter – SAFETY IS A PRIORITY!
Pets boarding with us are required to be up to date on immunizations and are housed in his/her own space so there is no fighting among our guests. Also, cats and dogs are housed in separate facilities so one does not cause the other any stress.
Pet Boarding vs. Pet Sitter – By choosing Big Times Kennel, there's no risk of possible conflict with your pet sitter should something unfortunate happen while your precious pet is in their care. Nor will you have to scramble for a solution if the sitter has an emergency and cannot continue caring for your pet.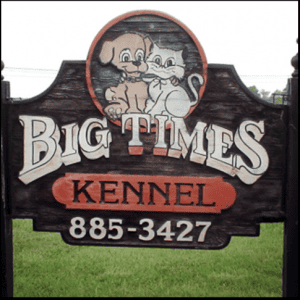 Pet Boarding vs Pet Sitter –
There is no fair comparison between what Big Times Kennel can provide for your pet vs. the limited time and attention a pet sitter can offer. We have safe, clean, and affordable accommodations so reserve a spot TODAY before we are booked for the summer!
If you live in the Dayton, Ohio, area, visit the Big Times Kennel website for more detailed boarding information. You can reserve online or give us a call at 937-885-3427 if you have any questions.
Follow us on Facebook: https://www.facebook.com/BigTimesKennel/
Editors Note: This is an updated version of a post that originally ran in 2018.