Cat Boarding Dayton OH
Like our canine guests, our feline guests also enjoy only the best in our cat boarding accommodations. Each cat or kitten can enjoy a peaceful stay with us away from those noisy dog guests as our felines' facilities are well separated from our canine guests. Each feline enjoys all the comforts of home while relaxing in his own 24″x24″x48″ cubicle on a plush carpet. Should the cat condo facility not be at full capacity we can expand the individual units to give those boarding pets more room to climb, explore, or just plain relax. We provide it all as e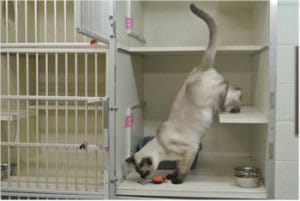 ach condo comes with a clean fresh kitty litter box (changed daily), fresh water, and an endless supply of cat food and treats.
Condos are cleaned on a daily basis or more to ensure a clean odorless environment and climate-controlled with their own heating and air-conditioning units to ensure a comfortable environment. An air exhaust system ensures a constant flow of fresh air into the cattery and a medical-grade air purification system helps to maintain a clean airflow. Updated shot records from your veterinarian are required covering FVRCP, Feline Leukemia, and Rabies.
Dayton OH Cat Boarding
Boarding Rates
$20.00 per day
Cash, checks, and credit cards* accepted.
Rates for both cats and dogs are all-inclusive covering food, bedding, and the dispensing of any meds which may be needed (sorry no shots). Special food or feeding schedule is not a problem.
Reservations and updated shots records are required
Call for more information.
Billing Policy
We bill exactly like a hotel. You are always charged for the first day no matter what time you drop off your pet. If you pick your pet up before twelve noon you are not charged for the day. If you pick your pet up after twelve noon you are charged for the day. All cat boarding clients will be charged for what they sign for at the time of the pet's drop-off. Should the client return early they will be charged for the entire stay and the last day will be considered as a pm pickup and charged accordingly.
Complete the online reservation form today or call us at 937-885-3427
*There is a service fee of 3% on credit card payments.