Reserve Your Pet's Summer Staycation at Big Times Kennel! – Greetings, fellow pet lovers! We are John and Maureen, the proud owners of Big Times Kennel in Dayton, Ohio. As summer approaches, we all look forward to taking some well-deserved time off to relax and unwind. Our furry friends deserve the same care and attention during this time, so we're here to provide them with a comfortable and enjoyable stay while you're on vacation.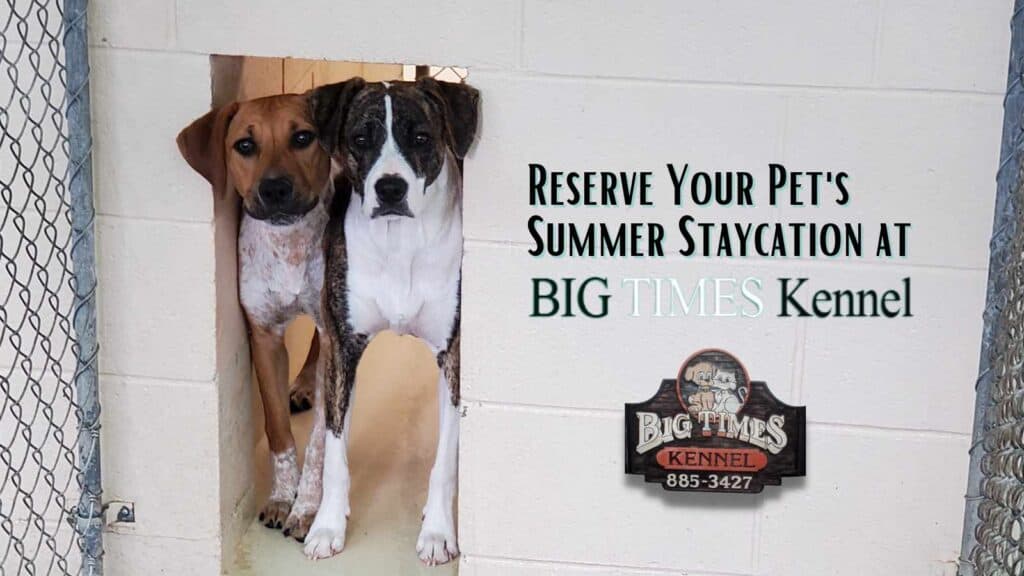 Reserve Your Pet's Summer Staycation at Big Times Kennel!
In this blog, I want to share why booking your pet's summer boarding early is crucial and how our dedicated team at Big Times Kennel will ensure your pets have a fantastic time!
Why Book Early for Summer Boarding?
Secure Your Spot: As the weather warms up, so does the demand for pet boarding services. By booking early, you can guarantee your dog or cat a spot at our kennel, ensuring they have a safe and comfortable place to stay while you're away.
Peace of Mind: Knowing your pet's boarding arrangements are taken care of well in advance allows you to plan your vacation without any last-minute stress. You can enjoy your time away, confident that your furry family member is in good hands.
Time to Prepare: Booking early gives you plenty of time to gather your pet's records, vaccinations, and any special instructions for their stay. This ensures a smooth transition for you and your pet when it's time to drop them off at our facility.
Why Choose Big Times Kennel?
At Big Times Kennel, we are dedicated to providing your pets with the highest care and attention during their stay. Here's what sets us apart:
Experienced Staff: Our team of animal lovers has years of experience caring for pets of all shapes and sizes. We understand each pet's unique needs and are committed to making their stay enjoyable.
Spacious Accommodations: Our kennel offers spacious, climate-controlled accommodations for dogs and cats, ensuring they have a comfortable and relaxing environment to call their own during their stay.
Enriching Activities: We believe mental and physical stimulation is essential for your pet's well-being. That's why we offer a variety of engaging activities such as daily walks, playtime, and socialization opportunities with other pets under our watchful supervision.
Personalized Care: We understand that each pet is unique, so we take the time to get to know their specific needs, preferences, and any special requirements they may have. Our team will work closely with you to develop a customized care plan for your pet's stay.
Summer vacations should be a time of relaxation and enjoyment for the entire family – including your pets. By booking your pet's stay at Big Times Kennel early, you can ensure a comfortable and fun-filled experience for your furry friend while you're away. Our dedicated team is here to provide the highest care and attention, giving you peace of mind as you embark on your summer adventures. Don't wait – reserve your pet's spot today, and let us give them the unforgettable staycation they deserve!
Visit BigTimesKennel.com for more information or to make a boarding reservation online! Call 937-885-3427 if you have any questions.
Be sure to check out our Facebook page www.facebook.com/BigTimesKennel too.