Reviews for Big Times Kennel Dayton OH
Click on any icon to be taken to our profile, where you can leave a new review. Choose whichever review site is best for you.
We appreciate you taking the time to help us spread the word!
---
They are so great and take such wonderful care of my dog. – Hannah G., March 2023, Google Review
---
Nice people…. Excellent care! – Steven J., March 2023, Google Review
---
They always do a fantastic job caring for all 3 of my dogs. Great customer service! – Krista L., February 2023, Google Review
---
I've been using them for years. My dogs love it there! – Lori J., January 2023, Google Review
---
My dogs love going here. The staff is so friendly and knows my dog's personalities! – Willie P., September 2022, Google Review
---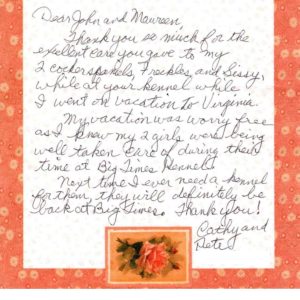 Thank you so much for the excellent care you gave to my 2 cocker spaniels, Freckles and Sissy, while at your kennel while I went on vacation to Virginia.
My vacation was worry-free as I know my 2 girls were being well taken care of during their time at Big Times Kennel.
Next time I ever need a kennel for them, they will definitely be back at Big Times. Thank you! – Cathy and Pete C., July 2022
---
We have had our 7-month-old lab mix here to train with John. He's amazing and fun and loves the dogs he works with immensely. We later brought her in to board at the kennel, and when we came to pick her up she was as excited to see John as she was to see us. Maureen is kind and gentle and I really feel like our pup is loved when she is there. – Katherine M., July 2022, Google Review
---
They take good care of my dog when I travel! She doesn't shy away from going into the building when I take her there. Friendly staff! – Adam, May 2022, Google Review
---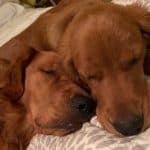 John, I can't thank you enough for everything you have done for me, you have helped me create the best friend I've ever had in Lainey. You will be missed by many. I hope I can have the privilege of your training expertise soon. Thanks again! Dave Seubert, Lainey and Kramer, December 2021, personal message
---
I always feel at ease leaving my dog in the care of the great personnel at Big Times Kennel. We just picked him up from a 12-day stay and he was healthy, happy and well taken care of. I was able to enjoy our vacation without a second thought! I highly recommend this Kennel for your pet's home away from home. – Jenny B., July 2021, Google Review
---
So nice to know we can bring our dogs to people we trust who love our dogs like their own! – Jamie A., May 2021, Google Review
---
I absolutely love Big Times Kennel and so do my two dogs. The entire staff goes above and beyond to make your dog's stay enjoyable. My dogs love when I tell them they're going to Big Times. I used them when I lived in Centerville and now live 1 1/2 away. I still travel to Centerville to board my pups because I trust and like them that much! – Anita H., March 2021, Google Review
---
Very friendly. Kennel is clean and well organized. The only place I'd board our dogs in Montgomery County. Our dogs love to go when we Have to be out of town. – Scarlett E., January 2021, 5-Star Google Review
---
My rescue dog has done Manners 101 and we are excited to start Manners 201 next session! I signed us up figuring a little obedience work and socialization would be good for her confidence and was beyond happy with the results. Not only is her confidence increased, but she is extremely obedient and LOVES going to training. Instructors are very knowledgeable and make training your dog simple. The price is also unbeatable! – Delaney D., December 2020, 5-Star Google Review
---
Having fun training my German Shepherd. – Jen M., November 2020, 5-Star Google Review
---
We've boarded with BTK for over 20 years with great success. They take really good care of your furry family. With our newest puppy, Angus, we started training with Manners 101. GREAT class and instructor! Angus and I learned a lot. We are definitely doing more training with BTK. – Monica T., August 2020, Facebook Recommendation
---
Even though I have moved to the Cincinnati area, I still board my dogs with Big Times Kennel. Two years ago, when I was boarding my dogs there, my Standard Poodle, Henry, began showing signs of Gastric Dilatation and Volvulus. Maureen immediately contacted me and let me know what was happening, as it is a life-threatening condition. With my permission, she took Henry to the 24-Hour Vet Clinic nearby, where they performed surgery and saved his life. If it hadn't been for the monitoring, awareness, and quick-thinking on the part of the staff at Big Times Kennel, Henry would not be approaching his 13th birthday next month! Words cannot express how much I appreciate this boarding facility, and what they have done for my fur babies. – Winnie B., July 2020, Facebook Recommendation
---
Friendly and caring staff! I will definitely use their services again. – Zach S., June 2020, 5-Star Google Review
---
I just wanted to thank you again for the private lesson last night. I really got a lot out of it. I will definitely be working more with Lucky on paying attention to me. He has a mind of his own and you know how stubborn he can be…it will be a challenge.
I loved having the opportunity to work repeatedly on things I was doing wrong. And I was particularly happy that we were finally able to get Lucky to do the teeter a little higher (that little machine was a miracle motivator!). Lucky was definitely tired when we got home so that was also a good thing.
There aren't many, if any, good things that I can say about the pandemic. But the best thing for Lucky and me was the ability to have three private agility lessons. We are so grateful for the opportunity we had to work on his skills, of course, but mine as well. I learned so much…probably more than Lucky. You were so patient, positive and encouraging! I left every lesson feeling more confident…and I even started to trust my dog a little! A major accomplishment for me, wouldn't you agree? So thank you for taking the time with us…it was worth every penny and I would do it again in a heartbeat! – SD, April 2020
---
"Big Times really knows dogs and they do such a great job caring for them. I got a full report on my dog, that let me know he was well-attended to. I felt very comfortable leaving him with then and would absolutely recommend them to anyone. And, it was very affordable!" – Kelly S., February 2020, 5-Star Google Review
---
"All of my dogs have gotten training here. They are well behaved. It is obvious the owners love and understand dogs. My dog went on a class field trip to practice all of her newly learned skills. She and the other dogs passed with flying colors." ~ M., January 2020, 5-Star Google Review
---
"Great training, facility, and people!" ~ Joan R., January 2020, Facebook Recommendation
---
"My pup always comes home happy and exhausted." ~ Kelsey P., December 2019, 5-Star Google Review
---
"Quality boarding." ~ Bryan B., September 2019, 5-Star Google Review
---
"Took good care of my aging, blind ACD." ~ Dean H., September 2019, 5-Star Google Review
---
"I used to take my dog to a place where they didn't have access to an outdoor space. Big Times has an outdoor space that each dog can access through a dog door at the rear of their kennel & is fenced off on both sides & the back so they are completely safe. They are very reasonably priced too. I highly recommend them." ~ Jill C., August 2019, 5-Star Google Review
---
"Great place to board a dog, friendly people, clean and great price." ~ Duke RenegadePup, August 2019, Facebook Recommendation
---
"Great People." – Chris S., July 2019, 5-Star Google Review
---
"Left our 1-year-old dog for the first time. The staff was very nice and our dog was happy and clean when we picked her up." – Mary Kay C., July 2019, Google Review
---
"We've been taking Zeke, our German Shepherd to BTK for many years now and not only is it a great kennel, he actually enjoys being there. It's very clean and organized and these people know dogs and have been working with dogs for decades! Thanks BTK!" ~ McAfee HVAC, June 2019, Google Review
---
"We just completed manners 101 with our young Golden Retriever Rhody. Whitney and John were both excellent and very informative. Looking forward to more classes." ~ Jim B., May 2019, Facebook Recommendation
---
"Great training for our puppy and daughter … thanks BTK and Gina!" ~ Vanessa H., April 2019, Facebook Recommendation
---
"Fantastic Experience." ~ Brittany B., March 2019 – 5-Star Google Review
---
"Not sure where you have tried but Big Time Kennel on Clyo provides all types of training for dogs and the owners/trainers come with decades of training….nice facility and great dog people." ~ Pat R., February 2019 – Nextdoor Recommendation
---
"Took my Snickers to agility then figured as good as Snickers behaves, he needed more manners training. Took Snickers to Manners 101 and now signing him up for manners 201. He is doing great and I love the trainers." ~ Joanne L. from Washington Place, February 2019 – Nextdoor Recommendation
---
"Big Times has the best dog training program in the area. Great teachers. Manners 101 for puppies and beginning training is a terrific foundation. Manners 201 expands the dog's skills and is fun. We are looking forward to Canine Good Citizen." ~ Laurie B., February 2019 – Facebook Recommendation
---
"We have been boarding our dogs at Big Times for over 20 years and have never had a problem. In fact, our 12-year-old basset Elwood seems to enjoy being dropped off. We've always felt that our dogs were treated as well as if they were home. We can't recommend Big Times enough!" ~ Steven D., February 2019 – Facebook Recommendation
---
"Awesome place to train your dog! knowledgeable trainers with real experience! They teach you how to teach your dog! Won't take my dogs anywhere else!" ~ Amanda O., January 2019 – Facebook Recommendation
---
"We took our German Shepherd there two times and she is wonderful! She was a beast before we took her there. The people were very courteous and they made sure that you did what you were supposed to do and if you do what they tell you to do your dog will do what you wanted to do. Thank you Big Times Kennel." ~ Aunt Betty, December 2018 – Facebook Recommendation
---
"Very pleased and will return for future boarding! Thank you for taking such good care of our big girl. Hassle free, safe happy healthy pooch and we enjoyed our vacation. P.S. she hasn't barked once since being home." ~ Heather W., November 2018 – 5- Star Facebook Review
---
"Maureen is amazing, and this is the only groomer and boarding facility I will ever use!" ~ Emily C., November 2018 – 5-Star Google Review
---
"I had a great experience with Manners 101! We really liked the venue, people and everything we learned. Thank you so much!" ~ Alex P., October 2018 – 5-Star Google Review
---
"Our Standard Poodle puppy just graduated from Manners 101 and we can't say enough good things about the class. The teachers (Gina and John) were knowledgeable and patient and there was great one-on-one interaction. We followed John's advice of one 15 minute homework session a day, and it really worked! We left with a solid foundation of the basics. Look forward to returning for more classes." ~ Joan R., October 2018 – 5-Star Google Review
---
"We LOVE Big Times Kennel!!! Drogon is always very excited to go for day boarding and I am very appreciative of how well they take care of my 'big baby'."
~ AR, August 2018 – Facebook Recommendation
---
"Thanks so much to you, your wife, and your staff for taking care of Alfie while we were on vacation! …Alfie will be coming back to Big Times this Tuesday for the obedience drop-in class and my husband will be joining us. Looking forward to it!" ~ Alfie's Mom, June 2018
---
"Only place I will ever board my special needs dog." ~ Rachel H., June 2018
---
"Hello John,
We have been so happy with your manners 101 training, your staff is top notch and we learned a lot.
Scout the Airedale has continued training at home, our three children can now give her the sit stay command in the house and she is a good listener with them. This is a huge success since now the kids can get her food bowl, fill up, and set out for her without her jumping on them or pushing them. Also, the kids can walk her out to the leash and take her for walks. We are so happy with the everyday changes we see.
We have seen a big difference with her not jumping on company, we had a picnic this weekend and she did not jump on the adults. She still gets excited and jumps on kids when they run and play.
I have written all three of the summer dates on the calendar, and we will plan to come.
We would love to board her with your staff when we go on vacation this summer. It will be in late July.
I was happy to hear from you, we think about our training tips often. Have a wonderful day." ~ Kelsey B., June 2018
---
"Best kennel and dog training facility in the Dayton Area!" ~ Rob T., April 2018
---
"Great place to board your pets. Caring place" ~ Greg H., April 2018
"I just wanted to thank you again so much for the kindness you and your team showed Ben. I was so nervous to leave him but was quickly at ease! ~ Connor H., October 2016