Dog Training Dayton OH
Big Times Kennel offers a complete dog training programs. Whether you would like a well-behaved pet or an accomplished competitor we have it. All programs start with the Manners 101 classes where basic handling and good manners are taught. From there we offer a variety of classes in obedience and agility for all skill levels.
As always all of our instructors are experienced dog trainers and they participate regularly in the dog training classes they are teaching. Presently our instructors are participating in agility, obedience, therapy, and confirmation. With our competition grade instructors, we feel we are well prepared to handle your pet's problems in a professional manner. All our classes are small and offer a lot of one on one attention so that each dog and handler is given personal attention.
Best Dog Training in Dayton OH
Session 5 2017 Class Schedule
Monday, October 9
Tuesday, October 10
Wednesday, October 11
Thursday, October 12
Remember classes fill up quickly so print out the dog training registration form and send it in with your check ASAP to ensure your space in the class. Checks are not cashed until the second week of classes.
---
How to Register
To register for a class just fill out the registration form here and mail it in with your check (we do not cash checks till the 2nd week of classes) and we will respond with a confirmation note back to you.
Send to:
Big Times Kennel
10650 Clyo Rd
Centerville, OH 45458
Manners 101
Our basic dog training manners course focuses on making your pet a well-mannered companion. The course concentrates on walking on lead, sit, down, stay and come on recall. We also address those normal pet problems like barking, digging and jumping. Need help with house breaking or counter surfing we can help. Want your pet to be a perfect neighbor? "Manners 101" is the place to start.
Children must be 14 years or older. This is a class for puppies and adult dogs.
6 week course $85.00 (7 dog limit)
Agility 101
This class will focus on the proper execution of each obstacle from the placement of the handler to the proper set up of the dog. Start line stays, strong attention skills and the proper execution of each and every obstacle with special emphasis given to the contacts and weave poles. It is our belief that a strong foundation in contact obstacles and weave poles will lead you to future successes in agility.
Dogs should be at least 18 months old.
Prerequisite: Manners 101 (strong stay and recall)
6-week course $85.00
Agility 201
Now that you have the basics down you are ready for step 2, Agility 201. Work will begin on series of obstacles and the importance of handler positioning. Most of your class time will be spent working with different obstacle combinations and different obstacle placements. Special emphasis will continue to be placed on the contact obstacles and weave poles and their proper execution, crossing techniques will be introduced and each week new challenges will be presented to keep you and your dog at the top of your game. Come join the fun!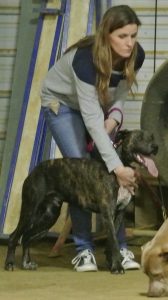 Prerequisite: The successful execution of all obstacles off leash, and the ability to successfully complete 12 upright weave poles at a Maximum of 6/8 inches apart off leash and under control.
6-week course $85.00
Agility 301
Now that you have the basics down you are ready for step 3. In agility 301 we start to step up your game to the next level. The weave poles are now closed, the challenges are at more of a competitive level and the game starts coming together. Each week the class is presented with new problems with the challenge of how to run faster and cleaner. The 301 students are getting competition ready and each week they are put to the test.
Prerequisite: The completion of the Agility 201 Class with the ability to demonstrate proper execution of each obstacle from the placement of the handler to the proper placement of the dog.
The successful execution of all obstacles, and the ability to successfully complete 12 upright inline weave poles.
6-week course $85.00
Agility 401
This is a class for the true competitor as the focus will be on increasing dog speed and handler skills. Each week a new course will be presented with new and different problems. The courses and the problems presented are designed to push you and your dog to the limit. All types of AKC Standard, Jumpers and Fast excellent level courses will be presented. This is a class for the true competitor. Instructor approval required.
6-week course $85.00