Best Dog Training Dayton OH
Big Times Kennel Obedience and Agility Training
After 25+ years of group classes and over 6,000 dogs trained, we are now offering more personalized training solutions. Today's client wants more individual guidance for their pet, and they want faster results.
By changing our strategy away from group lessons and into private lessons, we feel these challenges can be met. In our experience, many of the training challenges can be solved mainly by the amount of owner involvement and getting the information in a timely manner. This allows a more specific focus on challenges and solutions for your training.
Obedience Classes
A Word About Group Classes
Group classes have been very successful, but people have difficulty staying focused and getting in practice time during these busy times. By limiting the class size to six and moving the teaching/learning curve from 6 weeks to 4 weeks, we are solving that problem. We will still teach all basic behaviors (sit, stay, down and come) and are better able to concentrate on your individual problems.
Session 10 begins November 6, 2023
Monday, November 6, 2023
5:00 pm Puppy Class
6:00 pm Manners 101
Tuesday, November 7, 2023
5:00 pm Puppy Class
6:00 pm Manners 101
Obedience Class Descriptions
Puppy Class
We focus on making you and your dog successful! The very first thing we work on is attention! We use games for this to keep it interesting for your dog. This is the foundation of all dog training. Your dog needs to think you are the best thing ever! We will discuss words of affirmation and correction words as well. We cover impulse control and behaviors such as jumping, barking, and potty training. We talk about body awareness and environmental stimuli. We cover commands such as leave it, sit, stay, down, come on recall, and how to start properly walking on a leash. We also work on fun commands like get it and find it and target training. This class is the basis for training your dog in the future and continuing with Manners 101 and 201.
4-week course $195
Manners 101
Manners 101 is the next step after completing puppy training or for dogs over six months of age. We will also cover attention in this class, as it is the foundation of dog training. Everything covered in puppy class will also be covered in this class, with a focus on loose-leashing walking and adding a physical correction with your verbal command for "No" during walking. Your stay endurance will increase as well as distance if your dog is ready. We will cover exiting and entering doorways properly. Your come-on-recall distance will increase. This class will add more distractions, challenging your dog's ability to focus on the handler. A proper greeting protocol will be introduced here as well. You will be challenged as a handler in this class, but our goal is to make your dog successful!
4-week course $195
Manners 201
Manners 201 is an extension of 101. Handlers will practice longer stay times, increasing distance. Loose leash walking will become perfect. All activities will have more distractions and situations to test your relationship with your dog and build more trust!
4-week course $195
Canine Good Citizen
CGC is an AKC certification that you can get with your dog! It is all the skills you have been working on, but no training collars are permitted. This is a step that is usually required prior to a therapy dog or a service dog certification.
Test 1: Accepting a friendly stranger+
Test 2: Sitting politely for petting+
Test 3: Appearance and grooming+
Test 4: Out for a walk (walking on a loose lead)+
Test 5: Walking through a crowd+
Test 6: Sit and down on cue and stay in place+
Test 7: Coming when called+
Test 8: Reaction to another dog+
Test 9: Reaction to distraction+
Test 10: Supervised separation+
4-week course $195
Urban Canine Good Citizen Practice Class – Austin Landing
In this class, we will adventure into various stores and walk outside near people and children. We will experience people approaching your dog and different noises and experiences in new surroundings. We will practice going in and out of automatic doors as well as riding in an elevator. Please note to receive a UCGC Title, you must first have a CGC certificate. That test can be given by your instructor if you are interested.
4-week course $195
AKC Fit Dog Class – Level 1
Come and have fun with your dog!!! No age requirement! Come and have fun with your dog! Learn new behaviors and skills for your dog, and help them become engaged in the learning process. We will work on front paw targeting, a tuck sit, a kickback stand, some cookie stretches, and many more fitness activities. Each class will include a warmup and a cool-down. This class helps the handler learn proper dog alignment and teaches your dog to perform the exercise correctly.
There are three levels of AKC fitness titles-Bronze, Silver, and Gold. Each title requires a specific number of activity points to be completed, which varies based on title level. Earning points is done outside of class as well with hikes and outings, with dog and handler.
4-week course $195
Private Lessons
Private lessons will be available Monday, Tuesday, and some weekends. If you want to train with friends, we can make that happen. Call our office, and one of our trainers will contact you. All classes are held in our large heated training facility. $80/hr or three one-hour sessions $220.
Unfortunately, we are unable to offer makeup classes for all of our group lessons.
Need some extra practice? Try our New Drop-in policy to practice with your dog in any obedience class. Participants must have attended classes at Big Times or scheduled an evaluation. Class cost is $20, evaluation $10.
We accept cash, personal checks, and credit cards.*
Availability
This is a first-come, first-serve opportunity. Call Big Times Kennel at 937-885-3427. We are excited to offer more personalized dog training and dog lessons for you and your pet.
Do you have questions about our training program? Feel free to call. You can schedule a visit to see a training session.
Big Times Kennel Dog Training Center is located south of the kennel, with ample parking and plenty of open grassy areas to walk your dog before class begins.
Meet Our Trainers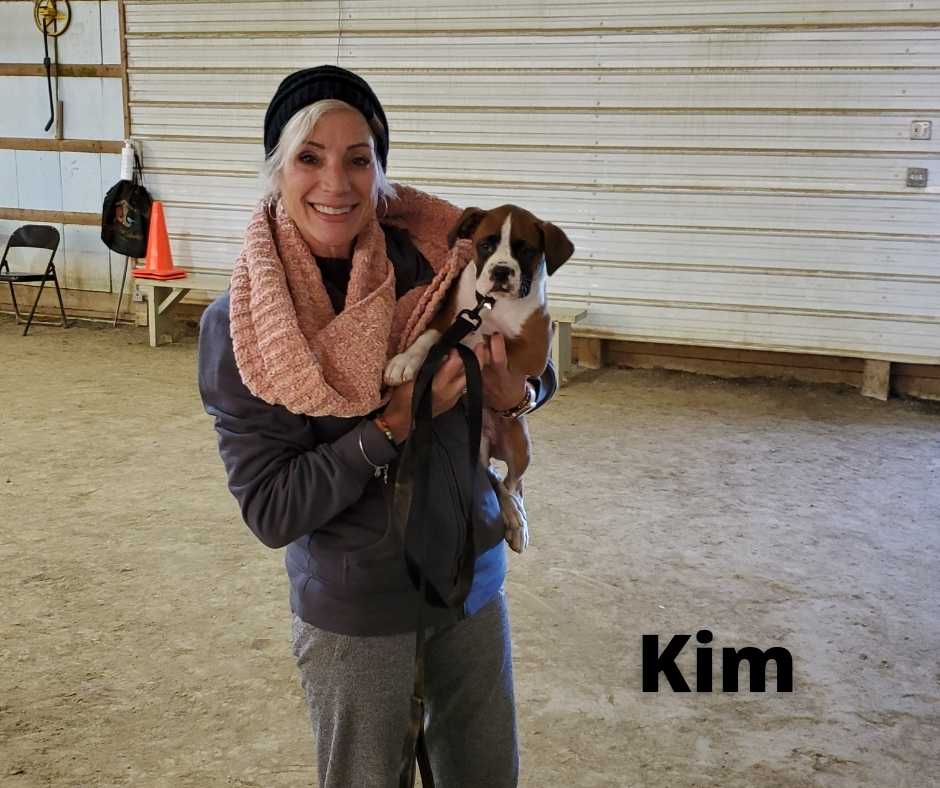 Kim has been on the staff at Big Times Kennel for years. She was in our training classes many years ago, continued training, and worked independently to become a better trainer.
Kim discovered training dogs was more rewarding than her day job and returned. She has been handling our Puppy and Manners 101 classes and doing all our weekday private lessons. Kim is a certified AKC trainer and has extensive training on reactive dog behavior. She also was the proud owner and trainer of a rough-coated collie who was a certified Therapy Dog.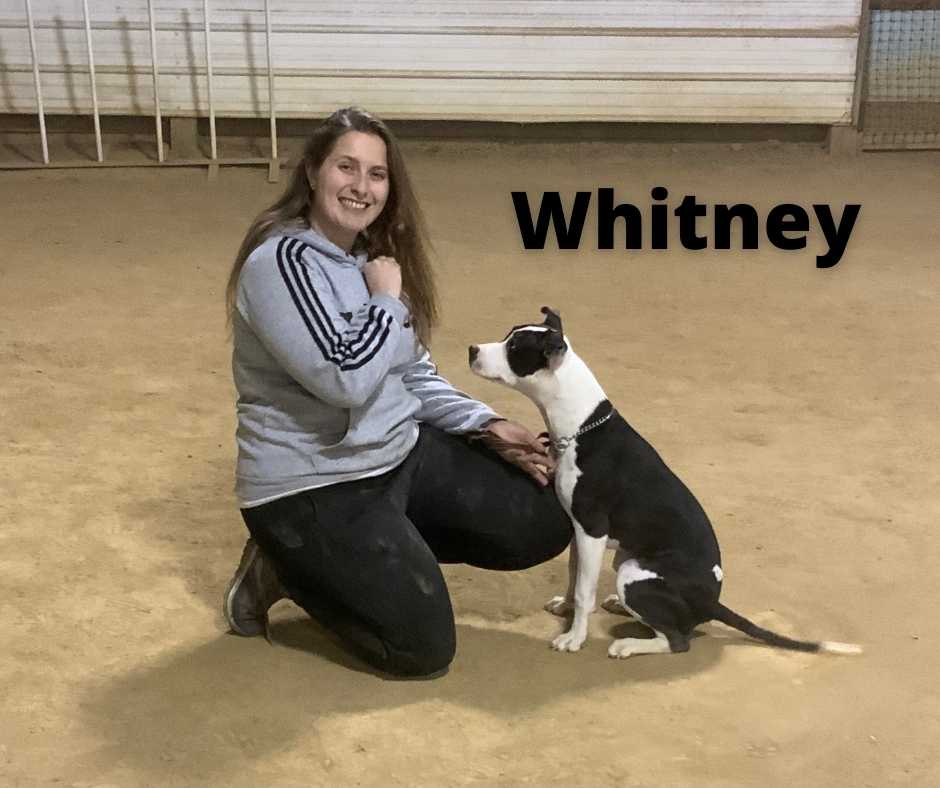 Whitney has been part of the Big Times Kennel staff for five-plus years. She has been training Manners 101 and 201 classes and has assisted with our Canine Good Citizen classes.
Whitney did Agility for a number of years until her rescue dog developed some structural problems, which forced her to retire him.
You can follow us on Facebook at Big Times Kennel and K9 Training on Instagram or subscribe to our YouTube channel — you might see you and your pup on there!
Agility
Thinking about getting into the agility game with your best friend? Now is the time! We have new sessions beginning regularly. In order for our trainers to best place your dog in the right class, we ask that you take one private lesson with our trainer to evaluate your dog's level.
A few basic skills are needed to make your dog successful in our classes. Your dog needs to be able to focus around distractions, have a good come on recall, and have a good sit/down stay. Remember you will be in class with dogs off lead and running by week 3.
So don't delay. If you are new to the sport, call now, and we will have a trainer contact you! Please call us directly at 937-885-3427 for our class schedule, more information, and to register.
Agility Class Descriptions
October 18, 2023
5:30 pm Introduction to Agility Equipment
6:45 pm Course Work, Putting Things Together
8:00 pm Pre-Competition
October 19, 2023
6:30 pm Competition Agility
8:00 pm Advanced Agility
Introduction to Agility Equipment
This class will focus on proper introduction and execution of obstacles as well as focus on flat work skills, 2-on-2 off, and place work. Start line stays, strong attention skills, and the proper execution of each and every obstacle, with special emphasis given to the contacts and weave poles. It is our belief that a strong foundation in contact obstacles and weave poles will lead you to future successes in agility. This class requires a strong sit-stay and recall as dogs are off-leash by week 3.
6-week course is $110 — 7 or less in the class.
A Minimum of 1 Private class is required for evaluation and placement
Course Work – Putting Things Together
Now that the dog understands the basics, it is time to move on to the next step. This class will focus on putting obstacles together to create sequences while focusing on building a true team relationship with your dog. We will continue to focus on bringing the teeter up to full height and closing down the weaves. Special emphasis will continue to be placed on the contact obstacles, weave poles, and their proper execution. Front, rear, and blind crossing techniques will be introduced along with short course sequences.
6-week course $110 — 7 or fewer in the class
Pre-Competition Agility
This course is for the team who is interested in true competition. We will focus on continuing to build the relationship between you and your dog while focusing on implementing the skills needed to make your dog successful in the ring. The weave poles are now closed, the teeter is at full height, and the challenges are at more of a competitive level. Each week the class is presented with new problems with the challenge of how to run faster and cleaner. This is a pre-competition class.
6-week course $110 — 7 or fewer in class
Agility Competition
This is a class for those who are entering the world of Agility competition. The focus will continue on contacts, weaves, etc., but skills needed to succeed in competing in the novice and open class will be added. Each week a new course will be presented with new and different problems. The courses and the problems presented are designed to push you and your dog to the limit. Discussions on course layout and execution will also be covered.
6-week course $110.00 — 7 or fewer in class
Advanced Agility
This is a class for the true competitor, as the focus will be on increasing dog speed and handler skills. Skills necessary to be successful in excellent and premier will be the focus. Courses will be developed from actual problems experienced by the students when competing.
6-week course $110.00 — 7 or fewer in class
Agility Private Lessons
Private Lessons are $70 per hour
Semi-Private lessons are $50 per hour per dog
If you do not have a partner, we will match you up with one with equal skills.
Enjoy these special training videos:
Targeting
Agility
Send
Attention Games
Dog Tricks
Sit Stay
Recall Part 1 & 2
Weave Poles Part 1
Dog Agility
Is My Dog Stressed?
Walking on a Leash
Recall Part 3
Weave Poles Part 2
Dog Obedience
*There is a service fee of 2.65% on credit card payments.