About John Reilly, Owner
After a successful career in the retail world, John Reilly felt it was time to settle down and grow some roots. Having been involved in the dog world as a hobby since graduating from college and always enjoying working with canines, the plan was made to make a hobby an occupation. And so the journey began to find a kennel with enough land and opportunities to become a full-service facility, boarding, grooming and training. After 3 years and a nationwide search, the perfect landing spot was found here in southwestern Ohio and the plans were put together to leave southern California and relocate to Ohio.
John's dog showing career started in the conformation ring with an Old English Sheepdog in the early '70s. He then moved to his present breed of Bouvier des Flandres in the mid-'80s and he got more involved in competitive obedience and herding. When agility started in the early '90s, John and his Bouviers were there. His initial training was with Karen Moureaux in southern California, one of the early leaders in the sport.
Over the years, John has titled dogs in all the venues he has pursued (conformation, herding, obedience and agility) and has been consistently in the top 10 Bouvier rankings nationally for performance dogs. In 2010, John and Laura competed in the AKC National Agility Invitational in Long Beach, California finishing as the #2 Bouvier des Flandres in the country. Then, in 2011, John and Laura were again invited to the Invitational and this time, traveled to Orlando, Florida; where the duo finished 2nd. Not bad for an older lady approaching her 9th birthday.
We were invited back in 2012 but the decision was made that Laura had jumped enough in her career and she was retired. As Laura is entering her retirement from competition, John has started his next dog, a mixed breed dog found at the intersection of Clyo and Bigger Road dodging traffic.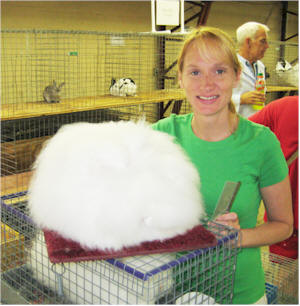 About Maureen, Co-Owner
After graduating from Ohio State University, Maureen pursued a career in teaching with the Cleveland public schools in a bilingual 6th-grade classroom. Upon moving to California Maureen followed her canine passion and enrolled in the Clippership School of Dog Grooming in Chatsworth, California. After graduating Maureen honed her skills at several shops in the Moorpark California area and the Agoura Hills Humane Society. Once the kennel was purchased and the move was made to Ohio, Maureen immediately set up the grooming business. She does it all from simple nail trimming to the full spa treatment. Maureen is also well versed in the competitive dog world as she has been involved in showing in the conformation ring as well as in the obedience and agility rings. Being involved in the sports of dogs really gives Maureen the inside track to knowing not only what your dog should look like but also the insight to know how to make your dog more comfortable whether in the competition ring or lying on a couch.
Dogs are not the only animal interest Maureen has, being an avid knitter and fiber spinner led Maureen into the English Angora rabbit world where she now spends a lot of her time. With limited showings in only the Ohio area, she has made her mark in the English Angora world by taking 4 Best in Shows in 2010. She now maintains and shows 16 English Angoras (10 Grand Champions, 4 babies 1 white fiber bunny and 1 grouchy older black fiber bunny). In 2011 a room dedicated to Maureen's rabbits was built onto the present grooming area. The room was specifically designed to meet her rabbit's special needs. The facility is completely climate controlled and well ventilated to ensure each rabbit's comfort and health. Maureen also maintains a blog about her rabbits here and a website dedicated to her angoras here.