What First Time Pet Boarding Families Need to Know
Are you going away this summer? Do you need care for your pooch while you are gone? Many families choose to board their dog or cat while they are on vacation.
If it's the first time you are planning to leave your pet at a kennel, you may be nervous or apprehensive about leaving your pet in someone else's care. Hearing from other families will help put your mind at ease.
Big Times Kennel is Clean and Friendly
Mallory had her pet sitter cancel on her with short notice close to Christmas time. Even though she knew it was a busy time, she called Big Times Kennel for her two schnauzers. She said, "I was very pleased with the staff at Big Times Kennel for my first experience boarding my two schnauzers. I already had one of them booked there and needed my other one booked (separate kennel) at one of the busiest times of the year (Christmas), due to my pet sitter canceling on me, and they worked her in with no problem. They were all extremely friendly for drop off and pick up. I even got a tour of their kennel when I dropped my dogs off. Extremely clean, and even smelled clean. They also are very quick to call you back, if you leave a message to call and check on your pets. My dogs also weren't dirty when I picked them up from being boarded for over a week, which is very nice as well. I will be using them again for future boarding, and most definitely recommend this kennel to anyone. Very responsible prices."
Big Times Kennel Puts Your Mind at Ease
There is so much on your mind when you are getting ready for vacation. Packing and planning can be a stressful time. No one wants the added stress of worrying about their pet. Suzanne brought Baxter to board at Big Times Kennel. When she returned she said, "Thank you for taking such great care of Baxter for us! It's nice to be able to go away and not worry about your best friend."
Big Times Kennel is Recommended by Veterinarians.
When Tiffany was looking for a place to board her dog, she thought about who would give her an honest and trustworthy recommendation. So she asked her veterinarian who recommended Big Times Kennel. After she returned she said, "I'm so glad my veterinarian recommended Big Times Kennel. I boarded my dog there for a week, and they took great care of her. They were wonderful! I highly recommend them!"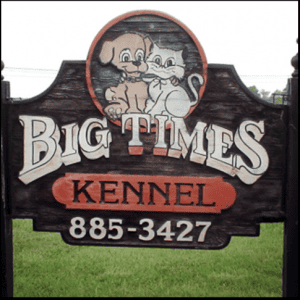 What First Time Pet Boarding Families Need to Know – It's not too late to reserve your cat or dog's spot this summer at Big Times Kennel! We are here to give you peace of mind on your vacation and give your pet an enjoyable vacation of their own with their own spacious kennel and plenty of room to run and play outdoors. Come in and see for yourself the clean spaces and meet the friendly staff. Call us today!