Less Stress for Your Pet This Holiday Season – The holidays are such a busy time of the year. And no matter what, they always sneak up on us so fast! Dare we remind you that Thanksgiving is just over a month away now? And I think we can all agree that Christmas promptly follows within the blink of an eye.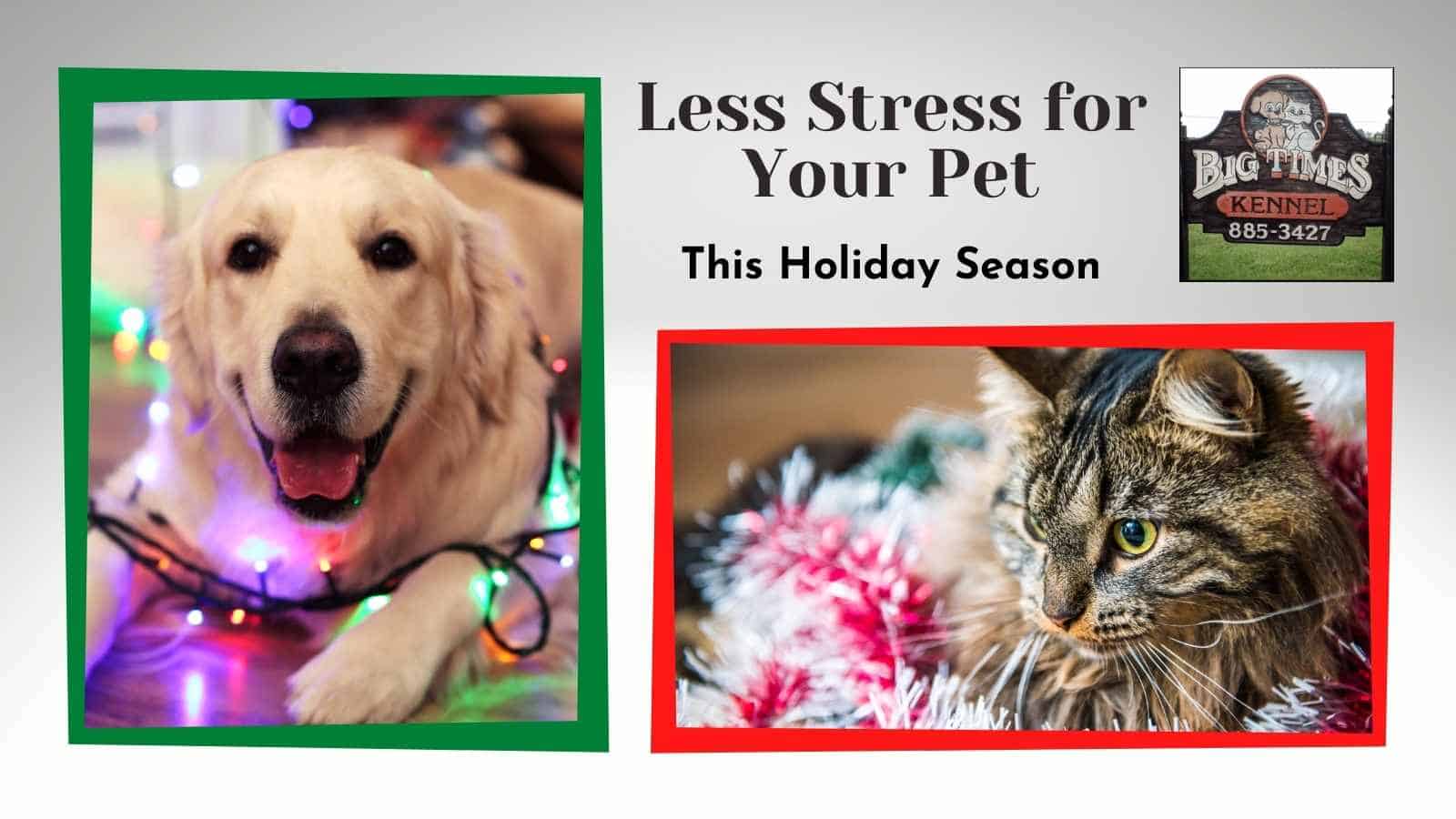 We know how stressful things can get for you and your family, and believe it or not, this stress can also affect your pets.
What we propose next may seem careless and absurd to some, but give us a chance to explain the benefits…have you considered boarding your pet during the holidays?
Here are a few reasons why less stress for your pet this holiday season is best for everyone. You may want to think it over.
Less Stress – for Everyone
If you are hosting guests in your home, it can trigger stress and anxiety in your pets, especially if they're not used to a house full of people. And since you'll be busy focusing on the needs of your friends and family, your dog or cat may not receive your full attention and may even feel left out.
Boarding your pet can essentially be a mini-vacation for them – they will get a quiet, stress-free break along with all of the attention they deserve!
You're Traveling
As much as we want to include our pets in all holiday festivities, traveling with our companions may not be an ideal situation. If you're taking a road trip to visit friends and family out of town, will your dog or cat fare well in the car? Some animals develop anxiety or get sick when traveling. This is also something to consider if you're venturing by plane, along with any extra costs for your four-legged passenger.
Finally, when you arrive at your destination, will there be sufficient pet-friendly accommodations? If not, it is best to think about boarding your pet, where you know they will be safe and well taken care of while you're away.
You're Attending Multiple Holiday Events
We all know how quickly the calendar fills up once November and December arrive. Between holiday dinners, work parties, catching up with old friends that are finally in town after a few years of hiatus, and of course visiting with every aunt, uncle, cousin, grandparent, niece and nephew, it is all time-consuming.
You'll need to consider if your pet is either able to accompany you or if leaving them home alone for long periods of time is worth it. Instead of disrupting Felix or Fido's routine, think about boarding them – they may feel more comfortable being away from any holiday chaos.
OK, we have made our case – all in the best interest of both you and your pet.
Are you still feeling unsure about boarding your best friend?
At Big Times Kennel, we will treat your dog or cat like one of our own. We promise they will be well taken care of.
Dog Boarding – All dogs have their own spacious indoor/outdoor suite and have 11 hours of access to the outside area per day so they can choose to enjoy the fresh air or just snooze in the comfort of their inside bed. Each dog boarding suite comes with its own self-replenishing water source and naturally, the inside areas are all climate controlled with heating, air conditioning, and dehumidifiers. We even added a hospital-grade air purification system to further safeguard your pet from airborne bacteria and viruses.
Cat Boarding – Like our canine guests, our feline guests also enjoy the very best in our cat boarding accommodations. They will have a peaceful stay since they are well separated from any noisy pups. All cats feel at ease while relaxing in their own space on a plush carpet.
Meals are generally given twice daily and treats are provided throughout the day. We will supply the food or you can choose to bring your own. If your pet has a special food or feeding schedule, we can accommodate.
Need a bath or grooming before departing? We can do it and have your pet looking his or her best before rejoining your family. Just let us know when you are making your reservations or dropping your pet off.
Contact Big Times Kennel today!
Please call us or visit our website to make your holiday reservations now – we do book up quickly!
937-885-3427 or https://www.bigtimeskennel.com/
Follow Big Times Kennel on Facebook – https://www.facebook.com/BigTimesKennel