5 Step Checklist for Spring Break Pet Boarding – The tickets are booked, the hotel is reserved, and the anticipation of a much-needed getaway is here. But, don't let the excitement become unnecessarily stressful by delaying your pet's vacation boarding plans… especially during popular Spring Break and holiday travel times. Not only is it important to reserve your pet's placement, but it's also crucial that you have all of their needed forms and medications prior to arrival.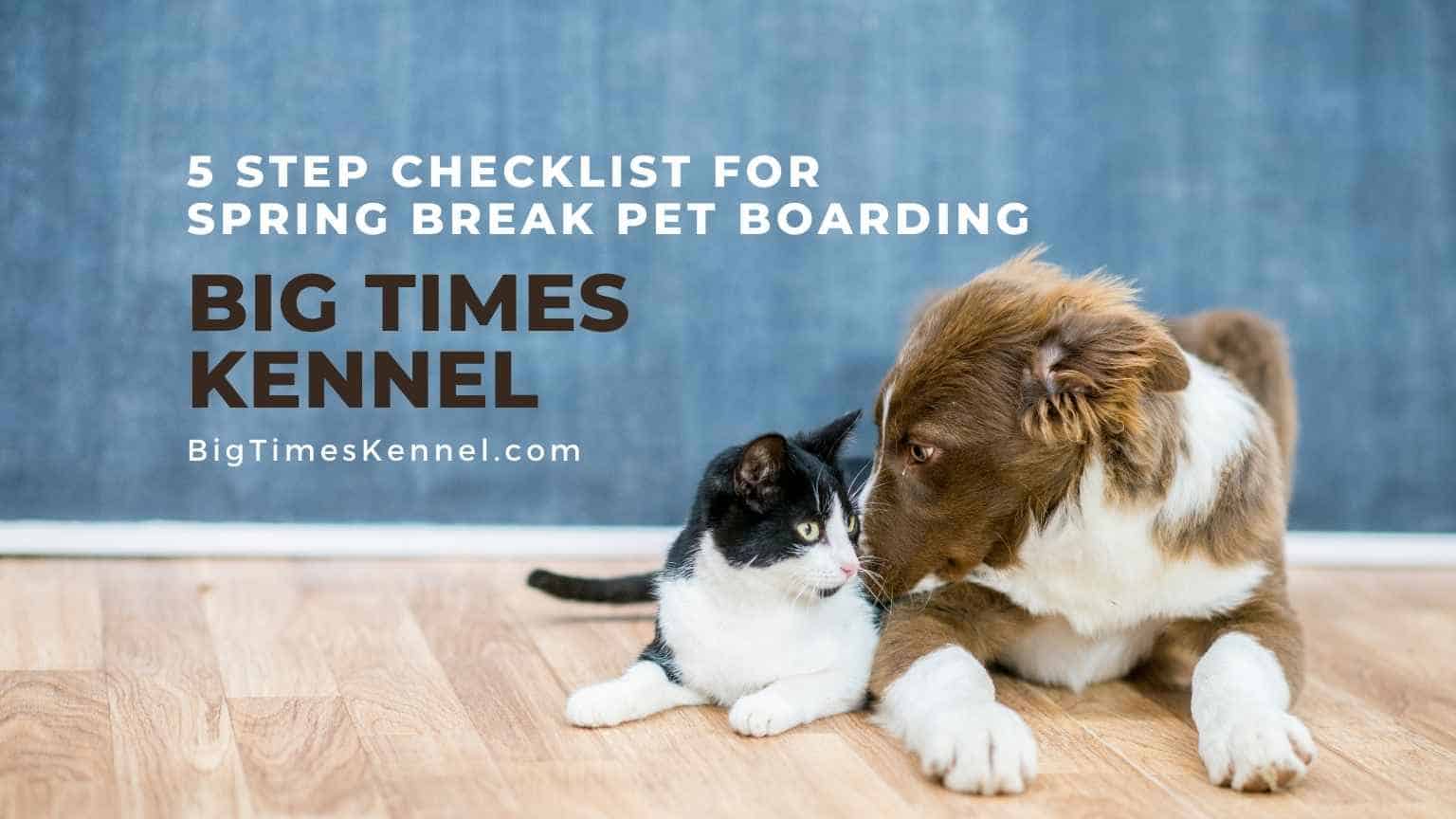 Use this checklist for Spring Break Pet Boarding to minimize stress, for your pet and yourself, while planning for your pet's boarding:
If you haven't already, schedule a visit at the boarding facility to see where your pets sleep, outdoor accessibility, security, and meet the staff for peace of mind that your family pets will be loved while you're away.
Reserve your dates. Boarding fills up quickly- especially during peak holidays and vacation times, like Spring Break. As soon as you know your travel dates, call to reserve your pet's room.
Request an updated vaccination record from your veterinarian. In addition to up-to-date vaccines, cats and dogs are often required to have additional vaccines specific to boarding. Check with the facility for their requirements and schedule necessary shots with your veterinarian.
Ensure that you have enough food, treats, and medication, if needed, for your pet's stay. We do provide food if you choose to use ours. Pack for at least one day extra in case of travel delays.
Plan on pampering. Days filled with playing and lazing can be "ruff." Schedule a bath or grooming during their visit so they're refreshed and recharged for their return home.
Home away from home
At Big Times Kennel, we know being away from your four-legged family members can be the most stressful part of a vacation, that's why we treat your family pets as a part of our family. We provide the love, attention, play, and rest they deserve… in accommodations that are comforting for all-size breeds.
Your pups also have secure and sheltered access to the outdoors whether they enjoy lazing in the sun, avoiding the rain, or sniffing to their heart's content. We pride ourselves on your pet's happiness at their home away from home.
Contact Big Times Kennel
Contact Big Times Kennel at 937.885.3427 or visit us at bigtimeskennel.com to learn more or schedule your next pet boarding. Be sure to check out our Facebook page too.