Bringing a puppy into your home is a big commitment that requires a lot of patience and attention. However, if work travel, a family emergency, or planned vacation takes you out of town, boarding your young pooch may be your only option.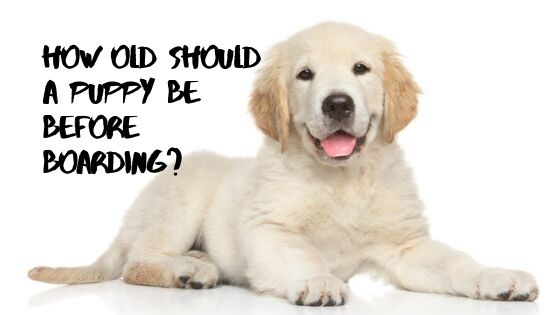 Entrusting the care of your precious pup to someone else is a big step, so finding an established kennel with responsible, loving caregivers is essential to both you and your puppy.
Your puppy's age matters
At four months old, puppies should be the right age to stay in a boarding kennel, but ONLY if they're up-to-date on all puppy shots–having completed both the first round at 12 weeks and the second round at 16 weeks.
Certified and responsible boarding kennels require all dogs, including puppies, to be up-to-date on immunizations and will need to see documented proof from your vet. Requiring proof that every pet is up to date on shots is a standard policy at accredited kennels to protect the safety and well-being of your precious pup while in their care.
Also, confirm with your vet that your puppy is strong and has no health concerns.
Questions every puppy parent should ask
Other than the completion of puppy shots, is there a simple answer to the question, "Is my puppy ready for boarding?" It will be different for each pooch; however, there are things you'll want to look for in a boarding kennel. Don't be afraid to ask questions before you schedule a stay.
If your puppy eats special food or needs medication, will they be able to accommodate your puppy's needs?
Do the caregivers/owners understand puppy behavior and have experience caring for puppies?
Will they recognize if/when your puppy needs medical attention?
Since puppies have lots of energy, do they have plenty of room to run and explore?
Will the caregivers have time to give your puppy the attention he craves, and are they capable of handling a timid, aggressive, or scared little pooch?
Big Times Kennel has over 22 years of experience in both handling and training puppies and adult dogs at their boarding and training facility in Dayton, Ohio.
Because of their passion for animals, owners John and Maureen Reilly reside on the property. They are committed to a life of pet care which includes grooming, training, raising show dogs, and boarding dogs and cats.
How Old Should a Puppy be Before Boarding?
If possible, drop your puppy off for a trial run—either an overnighter or doggie daycare—to see how he does. Chances are your puppy will have a positive experience, and you will have peace of mind that your pooch will do just fine while you are away.
When you need a reputable boarding kennel in the Dayton, Ohio area, Big Times Kennel will welcome your precious new fur baby with plenty of TLC!
If your puppy has a sibling, ask about boarding them together. Call 937-885-3427 if you have any questions or visit Big Times Kennel for more information.