Did you know that every year there's an entire week dedicated to the celebration of dogs? Celebrate your dog during National Dog Week and every week!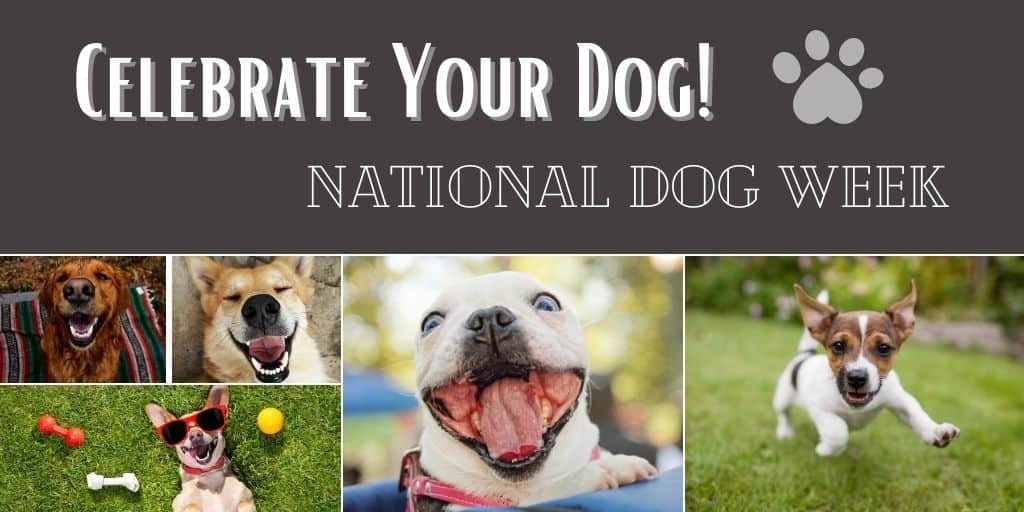 National Dog Week began in 1928 when World War I veteran Captain William Judy declared that a week-long celebration recognizing the service and steadfast loyalty of man's (or woman's) best friend was in order. Get ready to celebrate your dog!
Events and activities around the country include the education, responsibility, and acknowledgment of dog owners, dog lovers, community, and interaction between owners and dog care professionals. The week also strives to bring particular awareness to helping abandoned, lost and abused dogs.
Whether you are a pet parent or not, there are ways you can participate in or support National Dog Week, all week long:
1. Donate to a pet organization – Monetary gifts help cover the cost of supplies, veterinary fees, and the monthly expenses to keep shelters up and running. Donations of towels, blankets, food, treats, collars, toys, etc. are always welcome.
2. Volunteer at a local pet shelter – Abandoned, abused, or lost dogs need your time and attention. Nurturing and fostering these needy pets help ready them physically and behaviorally for adoption. You can also help with fundraisers or adoption events.
3. Adopt a dog of your own – Dogs are wonderful companions and protectors. Countless pets need loving homes, not only to receive love, but they have so much love to give.
4. Celebrate your dog – arrange a play date at the dog park with your pup's best friends, or go for a walk someplace you've never been.
5. Go shopping – Take your pooch on a shopping spree to the pet store for a new toy, sweater, collar, and leash.
6. Enroll in a training class – A puppy, obedience, or agility class is a great way to have your pup learn manners and skills, spend quality time with your dog, and socialize with other pups and their parents. We have just a few spots left in our October classes!
7. Take a vacation – While you're away, your pup can enjoy a holiday too. Arrange for your dog to stay at a local boarding kennel that offers all the comforts and attention of home.
As owners and caregivers of Big Times Kennel, Maureen and I are huge advocates and participants in making the lives of dogs and their owners better. We celebrate dogs every day of the year by providing training and boarding for your favorite furry friends.
Celebrate your dog at Training
Training classes range from puppy class to competing at the highest level of agility. Class sessions are offered throughout the year so check often to enroll.
Boarding
Our boarding facility is open all year long for your convenience. Whether you go away for one night or two weeks, we provide everything your dog will need to keep him comfortable, entertained, healthy, and happy during his stay.
Plan ahead for the holidays!
Big Times Kennel is now taking boarding reservations for the upcoming holidays. Spots fill up fast so plan ahead and call 937-885-3427 today. We also have a separate boarding facility for our feline friends.
Go one step further and schedule a grooming appointment for your dog during their stay. When you return, both you and your pet will feel refreshed!
Celebrate your dog every day by recognizing the importance of pets in our lives and ours in theirs.