A Caring Kennel Starts with Caring Owners
A Caring Kennel Starts with Caring Owners – Have you ever heard a pet boarding horror story that made you hesitate to board your pet? Many times these horror stories are a result of kennels that weren't run by animal lovers.
A well-run and well-respected kennel doesn't happen by accident. When the owners and employees are animal lovers themselves, the result is a kennel you can trust.
About John
John retired from a long career in the retail world and moved to Dayton, Ohio with the intention of starting a full-service kennel with room enough for boarding, grooming, and training. As a life-long dog owner, he has decades of experience taking his beloved dogs to shows and agility competitions.
When John retired, he could have chosen to sit back and relax, but his love for animals and desire to help others pursue their agility goals motivated him to use his retirement years to help others build memorable experiences with their pets.
Recently, John traded in group obedience training for a more individualized and effective approach and now offers private puppy and manners sessions.
He continues to conduct four levels of Agility at the Big Times Training Facility for owners and dogs who like more of a challenge and possibly aspire to compete.
About Maureen
After college Maureen taught in the Cleveland public schools, from there she moved to California. Because of her love of dogs, she decided to learn how to groom them. Like John, she also has experience in dog competitions. Because of this experience, she has the unique ability to groom dogs not just with looks in mind, but also with the dog's lifestyle in mind.
Maureen also loves her English Angora rabbits and is a knitter and fiber spinner.
Because both John and Maureen have decades of personal experience and affection for animals, they extend the same love and affection for all the pets who come to board at Big Times Kennel. They understand how hard it is to leave your fur babies in someone else's care. So they have created the atmosphere at Big Times Kennel to give you and your pet a successful boarding experience.
Here are a few recent success stories from happy pet parents:
"I always feel at ease leaving my dog in the care of the great personnel at Big Times Kennel. We just picked him up from a 12-day stay and he was healthy, happy, and well taken care of. I was able to enjoy our vacation without a second thought! I highly recommend this Kennel for your pet's home away from home." – Jenny B.
"So nice to know we can bring our dogs to people we trust who love our dogs like their own!" – Jamie A.
"I absolutely love Big Times Kennel and so do my two dogs. The entire staff goes above and beyond to make your dog's stay enjoyable. My dogs love when I tell them they're going to Big Times." – Anita H.
"Big Times really knows dogs and they do such a great job caring for them. I got a full report on my dog, that let me know he was well-attended to. I felt very comfortable leaving him with them and would absolutely recommend them to anyone. And, it was very affordable!" – Kelly S.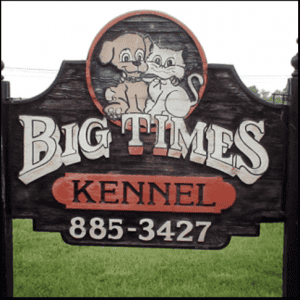 A Caring Kennel + Caring Owners = Peace of Mind
Big Times Kennel is not just a job for John and Maureen. Their genuine love for animals is shown in every element of Big Times Kennel and has given countless pet owners peace of mind when leaving their precious fur babies in the care.
When you are in need of boarding for your cat or dog, please contact Big Times Kennel and reserve your pet's spot. John and Maureen look forward to their visit!
Follow Big Times Kennel on Facebook – https://www.facebook.com/BigTimesKennel
Editor's Note – This is updated from a post originally published in 2017