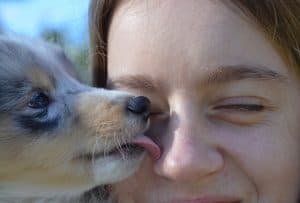 Why You Love Your Dog – Pet owners love their dogs. No doubt about it! What's not to love? Their furry friendliness, their cuddles, and the way they greet you at the door: they are part of your family.
Did you know that the love you feel for your dog is not just in your heart or in your head? There are actual scientific explanations for why you love your dog.
People feel love for their dogs because when they look into their dog's eyes, the hormone oxytocin rises in both bodies creating a bond. This is the same hormone that rises in a new mother's body when she gazes at her tiny newborn. More oxytocin means more happiness, joy, and feelings of love.
When oxytocin increases, cortisol, the stress hormone, decreases. Loving your dog lowers your stress level.
Healthier people are happier people.
Dogs keep you healthier since they are the perfect exercise accountability partner. The walks you take together reduce your stress and help to lower your cholesterol and blood pressure.
Your dog is always there for you.
Especially for those who live alone or feel lonely, you need the unconditional love of your pet. Your dog gives you someone to care for and someone to focus on so you can take your mind off of your own situation. Researcher and psychologist Brian Hare of Harvard studies the bond between humans and animals and noted that dogs are quickly able to read the patterns of our moods and can act accordingly. When you are sad, they know it, and even if no one else is asking you what is wrong, your dog is there to cheer you up.
Your dog can work together with you.
They are partners in fighting crime, leading the blind, herding sheep, listening to children reading to them, and even accompanying you on our errands. It's no fun to work alone. Take your dog along!
This is especially important for those who suffer from chronic pain.
No wonder you love your dog!
When you are away from home, you can love your dog by ensuring that they are in good hands.
Have a vacation or a business trip coming up? Call and schedule your dog's or cat's boarding appointment at Big Times Kennel.