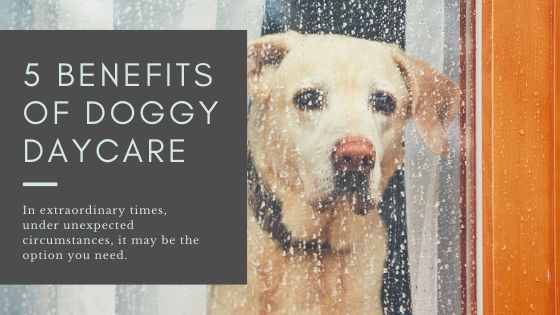 Doggy Daycare for your dog may never have been a necessity or even crossed your mind. But in extraordinary times, under unexpected circumstances, it may be the option you need. It may be what your pooch needs too!
What is doggy daycare?
Doggy Daycare is a place where your dog can go during the day for supervised playtime, exercise, and socialization. Whether you're at work, dealing with an emergency, have a day-long obligation, or need a day to yourself, a reputable daycare can be fun for your pup!
As an example, let's say you need to work longer hours each day temporarily. Your pooch still needs potty breaks, meals, exercise, and personal attention. What can you do to ease your mind and make sure your pup is getting the best care in your absence?
5 Ways Doggy Daycare Can Help You and Your Dog
1) Peace of mind – When life is chaotic, or your routine gets disrupted for a period of time, you might need a place where your dog can go for the day. Instead of hiring a pet sitter or imposing on a friend or neighbor to stop by, you can drop off your dog at daycare and pick him up later. Even though your routine might change, your dog can still get the attention he needs.
2) Loneliness – When you're gone all day, your dog will get lonely, and loneliness can lead to depression. Daycare offers socialization, playtime, and companionship with supervision. While a daycare setting may be overwhelming for your pooch, trained staff will be able to observe your dog and adjust their program accordingly. He may even learn some new manners and commands!
3) Attention – There is no need to worry about your pooch being bored, missing potty breaks or a meal, chewing up your furniture, or having an accident in your home because you're running late. Plus, daycare can be just as cost-effective or less expensive than hiring someone to come into your home.
4) Exercise – Activity is essential for dogs. When dogs don't get enough exercise, the energy could be used in destructive ways around your house or cause excessive weight gain, which can be harmful to your pup's health.
5) Energy – Dogs have a lot of energy, and they need an outlet to run it off during the day while you are at work. For healthy, active, and social dogs, this environment can be especially beneficial.
Big Times Kennel is here to help
John Reilly, the owner of Big Times Kennel, is an experienced dog trainer in both manners and agility. His almost 25 years of experience encompasses everything from buying a new puppy to competing at the highest level of agility. John and his wife, Maureen, a groomer, live on-site and also provide boarding for dogs and cats.
Doggy Daycare at Big Times Kennel is available Monday-Friday. Please call us at 937-885-3427 for more information or to make a reservation. Please note that all pets require up-to-date immunization records.