How Your Dog Can Achieve an A+ for Good Behavior
By bringing a cuddly, furry pup into your family, you are making a commitment to nurture, love, and care for a bundle of energy.
How Your Dog Can Achieve an A+ for Good Behavior – No matter what temperament or energy level your pup exhibits, he/she needs your time, patience and guidance in learning good manners, obedience, and how to behave among people and other pets.
How Your Dog Can Achieve an A+ for Good Behavior – Common displays of disruptive or destructive behavior that can be corrected include:
Barking
Jumping
Begging
Digging
Chewing
Aggression
Perhaps you've tried doing some training on your own…techniques that you learned through information or videos found online, but it didn't work. Maybe your pup obeys some of the time, but not all of the time.
Don't give up! Your precious pup is trainable!
Maybe it's just that you need the right tools. In other words, hands-on instruction from an experienced professional training program where you'll learn the correct way to achieve the results you want. As your dog's parent, you will learn basic handling, verbal commands, signals, and tone of voice to use when addressing your pooch so you are both "speaking" the same language.
Professional dog trainers know how to deal with disciplinary issues and can teach you what you need to know by understanding your pet's behavior, how to address issues and to prevent these behaviors through practice and consistency.
Your dog will learn to be well-mannered!
Not only will your dog learn to be well-mannered when you have visitors or are out walking, but the training experience will forge an unbreakable bond between you and your most trusted furry friend. Also, you'll be confident knowing you can go anywhere with your loyal, obedient and well-behaved companion.
How Your Dog Can Achieve an A+ for Good Behavior – Obedience Classes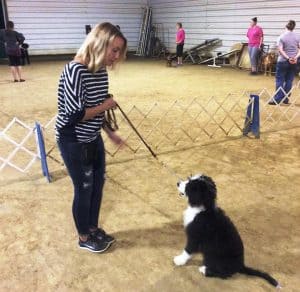 Big Times Kennel in Dayton, OH, is a great place to begin your journey by enrolling in their Manners 101 class. Here you and your dog will learn basic obedience and commands in an affordable six-week class, taught by professional experienced trainers. Step by step training with others in a small group setting allows you and your dog more personal attention.
Big Times Kennel regularly offers dog training programs for beginners through competitors so check our website often for upcoming dates and details about classes. Our sessions fill up quickly so the sooner you sign up, the better. Print a registration form here or call us TODAY at (937) 885-3427!