Not all dogs (or humans) are suited for group training classes for a variety of reasons.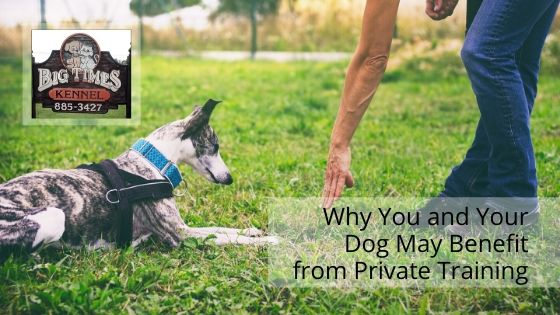 Why You and Your Dog May Benefit from Private Training – Some dogs and handlers enter into "competition mode," while others want to learn only basic commands to teach their pooch obedience and manners. Also, not all pups learn at the same speed or in the same way.
Why enroll in private classes?
Private lessons allow people to not feel intimidated or less skilled in their progress. The environment is less competitive and intimidating for the handler. With little or no pressure, you can focus more on the dog.
People are better able to focus on their handling skills and their dog's rate of learning.
Dogs generally are more attentive with fewer distractions.
The environment is more controlled, enabling the dog to be more attentive to what's going on.
If your dog is anxious around other dogs and people, it allows him to learn how he should act before being placed in an environment where he might fail.
Your schedule may not be compatible with the time group classes are offered.
What should I look for in a trainer?
Does the trainer match what you want to accomplish?
What are their training methods, and why do they think that method is the best?
What types of collars do they use? Do they use any props, equipment, or treats?
What are the trainer's qualifications? Do they have experience or references?
Whatever you decide, group or private training, it is essential to understand that your dog needs direction and guidance…even a job, some say.
The AKC has many programs, not all competitive, and will give you some ideas of what you and your best furry friend can accomplish.
Why You and Your Dog May Benefit from Private Training – Should you have any questions, our team at Big Times Kennel is always available to help with anything from how to choose the best dog for your family or lifestyle, to raising and training your pooch.
In the Dayton, Ohio area, Big Times Kennel offers private lessons, either at our training facility or in your home within specific zip codes. Check out all the training options we have to offer on our Big Times Kennel Dog Training page and contact us today!