Boarding your dog at a reputable kennel while away on vacation means you want your precious pet to have the best of care in your absence. But when you have a young puppy, there are restrictions and precautions to consider.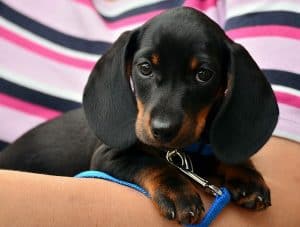 At What Age Can My Puppy Go to Dog Boarding?
Five things you should know:
The average minimum age to send your puppy to a boarding facility is around FOUR months old. Responsible places require that your pup has his/her complete regimen of "puppy" shots, which is usually around 16 weeks. Boarding facilities should always require proof that your puppy is up-to-date on vaccines. This policy is strictly for safety reasons so your pooch does not get sick during their stay.
The immune system of a young puppy is not yet fully developed so they have a higher risk of picking up contagious illnesses. Although some kennels take in puppies after only the first round of shots, waiting until the second round completely provides the best protection against him/her getting sick. If your puppy's health matters to you, keep that in mind when adopting a puppy and plan your vacation accordingly.
It's always best to check with your vet when you have any concerns about your puppy's age and health risk before boarding, especially if your puppy has just recently completed the second round of shots at 16 weeks. It's good to check with the kennel as well.
An established, accredited kennel will always ask for proof of vaccination before taking in any pet. If the boarding facility doesn't require proof, then go on to the next facility. In addition to being current on vaccinations against rabies and other infectious illnesses, your pet, and all others boarding there should be free of fleas, worms, and other parasites.
Always do your research before choosing a boarding facility and choose the place that meets all of your requirements. Even if a kennel is very strict about cleanliness, don't be afraid to ask if they have encountered any illnesses or issues recently.
Bringing a puppy into your family is a commitment that takes time and patience. Be an informed and caring pet parent by planning your puppy's adoption responsibly.
At Big Times Kennel in Dayton, Ohio, your puppy's health and well-being are of utmost importance during your absence. We will welcome your puppy after the second round of shots has been completed and take every precaution to assure you that your pooch is safe from illness while in our care.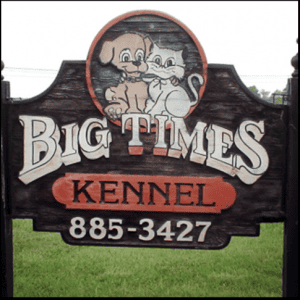 Schedule a reservation for a night or two as a trial run to see how your puppy adjusts to the surroundings, being among other dogs, and away from you.
Visit the Big Times Kennel website TODAY and begin planning for tomorrow! Give us a call at 937-885-3427 for more information.