Agility 301 Session 4 Thursday 6:30 PM
August 23, 2018 @ 6:30 pm

-

7:30 pm

$85.00
Agility 301
Now that you have the basics down you are ready for step 3. In agility 301 we step up your game to the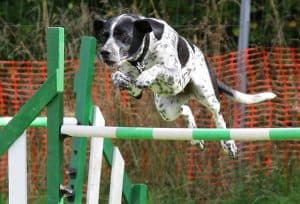 next level. The weave poles are now closed, the challenges are at more of a competitive level and the game starts coming together. Each week the class is presented with new problems with the challenge of how to run faster and cleaner. The 301 students are getting competition ready and each week they are put to the test.
Prerequisite: The completion of the Agility 201 Class with the successful execution of all obstacles, and the ability to successfully complete 12 upright inline weave poles.
6-week course $85.00
Remember classes fill up quickly so print out the dog training registration form and send it in with your check ASAP to ensure your space in the class. Checks are not cashed until the second week of classes.
How to Register
To register for a class just fill out the registration form here and mail it in with your check (we do not cash checks till the 2nd week of classes) and we will respond with a confirmation note back to you.
Send to:
Big Times Kennel
10650 Clyo Rd
Centerville, OH 45458