Agility 201 – Session 5 – Wednesday 8 PM – is FULL!
October 10, 2018 @ 8:00 pm

-

9:00 pm

$85.00
Agility 201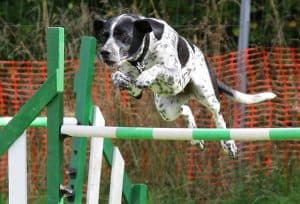 Now that you have the basics down you are ready for step 2, Agility 201. Work will begin on a series of obstacles and the importance of handler positioning. Most of your class time will be spent working with different obstacle combinations and different obstacle placements. Special emphasis will continue to be placed on the contact obstacles and weave poles and their proper execution, crossing techniques will be introduced and each week new challenges will be presented to keep you and your dog at the top of your game. Come and join the fun!
Prerequisite: The successful execution of all obstacles off leash, and the ability to successfully complete 12 upright weave poles at a Maximum of 6/8 inches apart off leash and under control.
6-week course $85.00
Questions? CALL 937-885-3427
How to Register
To register for a class just print out the registration form and mail it in with your check (we do not cash checks till the 2nd week of classes) and we will respond with a confirmation note back to you.
Send to:
Big Times Kennel
10650 Clyo Rd
Centerville, OH 45458