Agility 101- Wednesdays @ 6:30 pm – CLASS IS FULL!
April 12, 2017 @ 6:30 pm

-

8:00 pm
Agility 101 – CLASS IS FULL!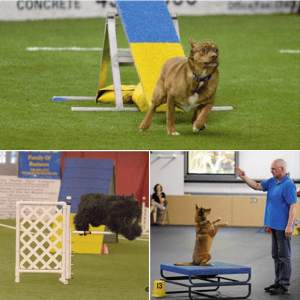 This class will focus on the proper execution of each obstacle from the placement of the handler to the proper set up of the dog. Start line stays, strong attention skills and the proper execution of each and every obstacle with special emphasis given to the contacts and weave poles. It is our belief that a strong foundation in contact obstacles and weave poles will lead you to future successes in agility.
Dogs should be at least 18 months old.
Prerequisite: Manners 101 (strong stay and recall)
6 week course $85.00
Remember classes fill up quickly so print out the dog training registration form and send it in with your check ASAP to ensure your space in the class. Checks are not cashed until the second week of classes.
How to Register
To register for a class just fill out the registration form here and mail it in with your check (we do not cash checks till the 2nd week of classes) and we will respond with a confirmation note back to you.
Send to:
Big Times Kennel
10650 Clyo Rd
Centerville, OH 45458
See more of our Manners and Agility training on our Dog Training Page